Do-it-yourself deck construction might save a homeowner several hundred dollars versus the cost of professional deck design and installation; however, as with many other home improvement projects, cost savings shouldn't be your only consideration! There are many drawbacks to DIY deck construction and many reasons to consider hiring a professional for this project on your property.
Deck construction must be level while still allowing for proper ground clearance. It's also vital that center slats and boards have proper support underneath and that decks are treated properly, to avoid mold growth as well as wear and tear.
Before you decide that you can forego the cost of deck builders and manage your own DIY construction project, you might note some advantages of leaving this work in the hands of professionals. It's also good to consider some added tips for ensuring proper deck construction outside your home, so you can make the best decision possible when it comes to your home's exterior space.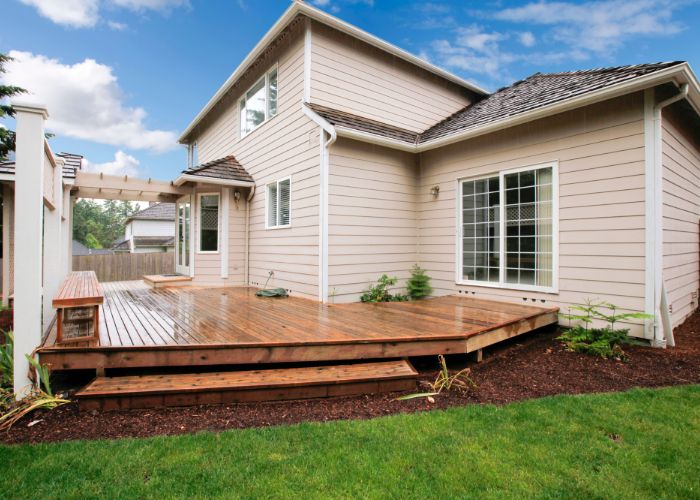 You might also consider some advantages and disadvantages of a brick patio versus a deck, or a concrete patio, pergola, and other such construction outside your home. This information will ensure you make an informed decision about deck construction or patio installation, and which is the right choice for your home and family!
Deck Construction Mistakes to Avoid
While some handy homeowners might manage DIY deck construction, it's vital that you consider how difficult the project can be to manage properly! Note some common deck construction mistakes to avoid so you know when to tackle this project on your own and when it's best to call deck companies and let them design and install a deck for you.
Local building codes typically include deck construction. Being inattentive to those codes can mean fines from your city or county, an interruption of your work, and lower property values. Note, too, that local building codes are put in place to ensure safe construction on your property, so neglecting certain regulations or requirements might result in an unsafe deck!
Incorrectly spacing the joists can mean unsafe gaps on your deck's walking surface, or not enough space to allow for proper air circulation. Added air circulation removes moisture that otherwise leads to wood rot and mold, so it's important to space joists as needed for a safe surface that lasts.
A deck rests on what are called footers. Those footers must be installed on level, compacted soil, below your area's frost line so as to avoid frost upheaval. The tops of footers must also be elevated slightly, to keep them dry. Incorrect placement of footers and poor soil preparation often results in decking damage, wood rot, and the like.
Footers also need to be thick and rock solid! Those footers hold up the majority of a deck's weight so trying to use overly thin boards, not enough boards, or damaged boards can also result in eventual decking damage.
Many DIY deck builders attach beams to the sides of support posts. This is an easy method of deck construction but the bolts used for holding beams in place are typically not strong enough to manage that weight. In turn, those bolts often pull out of place, allowing for unsteady and unsafe beams and damaged support posts. Professional deck contractors attach beams to the tops of support posts or shear out an opening to slide them through the post.
It's not unusual for homeowners building their own decks to accidentally block access to any number of features on their property or cut off air circulation around certain fixtures, including dryer vents, exterior outlets, air conditioning units, outdoor plumbing pipes, and the like. A poorly planned deck can even block full access to a detached garage or shed!
Don't Overlook These Details When It Comes to Deck Design
If you do want to manage deck design yourself, you might note some of those vital details that can "make or break" your new deck layout and design. These details and features can make the difference between a comfortable, inviting outdoor space or one that seems more cumbersome than cozy and relaxing!
Ensure you mark off all outside fixtures including vents, water bibs, and electrical outlets, and create a design that allows for proper access to those features when needed.
It's also vital to note any feature that might create an uncomfortable airflow around deck seating, such as dryer vents and central air conditioner compressors. Choose a deck design that keeps seating areas away from those outlets, or relocate the deck altogether!
Note, too, if your planned deck location might bring you too close to your neighbors. If needed, add some privacy features to your deck design such as tall potted plants along one side or an outdoor screen.
If you plan on using the deck for outdoor cooking, ensure your deck design is large enough to allow for adequate space between furniture and grills or other such heat sources.
Your outdoor cooking areas should also be away from the home's exterior walls and especially outside windows! Adequate space is needed to avoid the risk of catching a wall on fire, leaving soot marks along walls, and allowing smoke and fumes to enter through those exterior windows.
Ensure your deck design includes steps and handrails where needed. Don't overlook the difficulty of stepping up onto an elevated deck from your yard or managing a steep step from the home's patio door to the deck!
Along with steps and rails, note if your home's deck needs built-in lighting. An overhead porch light is often insufficient for illuminating deck edges and steps and other such hazards.
Even in small yards with limited space, it's vital that your deck design include room for decorative features such as plants or outdoor candles, as well as side tables for coffee and other drinks! These small touches ensure your deck is comfortable and relaxing and that you enjoy your time outdoors.
A homeowner might also consider the experience and expertise offered by deck contractors when it comes to new deck design. Many deck builders will note certain details a homeowner might overlook, such as how easily certain wood species show dirt and dust, how easily you can repaint certain wood varieties, where to place lighting for steps and other hazards, and the like. Investing in the services of professional deck builders means a new deck that is safe and comfortable and that you'll love for many years to come.
Should You Choose a Concrete or Brick Patio Instead of a Deck?
If you're still not sure about a deck construction for your home, you might consider a concrete or brick patio instead. There is no "right or wrong" as to which choice is best for your home; as with any other home improvement project, consider the pros and cons of each choice. You can then discuss your options with patio and deck contractors near you and decide which might work best for your home and family.
One advantage of decks over a brick or concrete patio is that decks are elevated off the ground. In many cases, this makes them level and even with patio doors, which are also typically elevated slightly. While a home might include steps to a brick or concrete patio, if you struggle with steps or want to avoid them for any reason, a patio might be a better option.
On the other hand, the elevation of a deck construction might offer more eye-catching visual appeal! Decks with wide stairs leading to the backyard, along with lighting fixtures and other such details, create a stunning look for any outdoor space. While a brick patio might blend with a home's yard and landscaping, a deck stands out and commands attention!
Some homeowners, however, might appreciate the natural look of a brick or concrete patio. Stamped and painted or stained concrete or a brick patio often complement certain outdoor home and landscaping styles better than wood decks. Stone or brick patios might coordinate more easily with a cottage style décor, for example, or might add some contrast to a craftsman style home with all its wood trim and detailing.
Pergolas are also an option for homeowners who prefer lots of visual impact as well as added shade. A pergola has slatted walls and a roof overhead, which allows for hanging outdoor curtains or other shade features. The drawback of a pergola versus a deck is its size, which can sometimes overwhelm a backyard and especially on smaller properties.
Related Questions
Can you build a deck directly on the ground?
Floating decks can be set directly on the ground but note that concrete blocks provide added support and stability. It's also vital that you allow for proper airflow around wood decks, to prevent moisture buildup and resultant wood rot.
How many footings are needed for standard deck construction?
It's typically recommended that deck design include footings and posts less than 8' apart. The number of footings needed will then be determined by your overall deck size and number of boards or beams used for its walking surface.