Hiring deck contractors in Overland Park is the best choice for most homeowners, as an experienced and skilled contractor ensures a safe and comfortable deck design you're sure to love for years to come! Investing in the services of deck companies in Overland Park also means not spending days on end trying to install a new deck on your property, a project that many homeowners find more challenging than they expected.
Since there are many Overland Park deck contractors from which to choose, how do you find the right one for your home and new deck installation? To help you narrow down your options, note a few quick tips to consider.
Choose Overland Park Deck Contractors That Specialize in Decks
A general contractor might have the skills and experience needed for creating and installing decks in Overland Park, but someone who specializes in decks, patios, porches, and pergolas will typically have even more experience and expertise! Building decks requires knowledge of local construction codes, the right connectors to use for heavy beams, the number of footings needed, and so on. General contractors might lack some specialized knowledge and experience in deck design and installation, which can then mean a poor-quality construction.
To find the best deck contractor in Overland Park for your project, choose a company that offers exterior structure designs and installation alone rather than general home improvement and repair services. You'll be more likely to find someone that has the experience needed to ensure quality deck installation and a stunning space you'll love.
Qualified Deck Contractors in Overland Park Offer Variety
Pine decking is still a favorite for many homeowners as pine and other similar wood species are very affordable and easy to fabricate. However, a qualified deck contractor in Overland Park should offer a variety of wood species as well as deck designs. This might include eco-friendly bamboo, metal decking, and composite materials made with a mixture of wood and plastic for added durability.
It's vital that you choose a deck builder in Overland Park who offers variety so you know you'll love the finished product and end up with a deck that provides the look you love and that complements your home's appearance. It's also important that an Overland Park deck builder respect each homeowner's budget when it comes to deck design and installation, rather than insisting on using high-priced materials and only offering a few standard design options.
Does Your Contractor Offer Deck Repair for Overland Park Homes?
Even the highest-quality decking needs repairs, resealing, and other such maintenance work over the years. Using the same Overland Park deck contractor for repairs as you did for installation can make that work faster and easier overall! Since that contractor will be familiar with your new deck design, wood species, age, and the like, he or she can then make quick work of needed repairs.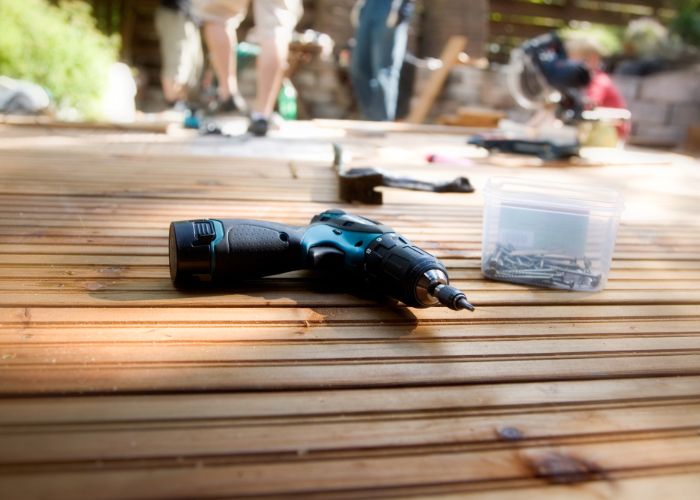 An Overland Park deck contractor offering repairs might also be familiar with what increases the risk of damage to your home's new deck, and can offer advice for keeping it in good condition. For example, he or she might suggest the right power washing method and cleanser to use for your chosen wood species, and how to patch chips and cracks as they form. Using the same contractor for installation and repairs is then an excellent way of prolonging deck life and ensuring it looks its best as well.
Why Choose Local Overland Park Deck Contractors
For your home's new deck, you might have the choice of local Overland Park deck companies and national franchises or companies with headquarters out of state. Local deck contractors might be more familiar with Overland Park weather conditions, and can then offer advice on the right sealants and other treatments needed for proper deck protection.
A local deck contractor might also know the latest styles for deck construction in your area and what would look best on your property, even showing you pictures of neighborhood decking or patios they've installed. He or she might also know some challenges your neighbors have faced with certain deck designs or wood types and can offer cautions against your preferences.
Remember, too, that hiring local Overland Park deck contractors means keeping your purchasing dollars in your neighborhood! Choosing local contractors is an excellent way of supporting your neighbors and their families while also keeping tax dollars paid on labor and supplies in your city, helping to then pay for law enforcement, schools, road construction, and the like.
Reliable Overland Park Deck Companies Don't Rush You!
A deck might not be the most expensive home improvement project you ever take on, but it's still advisable for homeowners to take their time in making decisions for wood species, board size, and the like. After all, no matter your Overland Park deck installation costs, you want to enjoy your new outdoor space for years to come!
A reliable, trustworthy deck contractor in Overland Park respects this process and doesn't rush a homeowner through! He or she should offer lots of options, as said, and then be willing to answer whatever questions they can about wood varieties, deck designs, the installation process, and the like. He or she should also then give each homeowner adequate time to make a decision that works for them.
If you feel rushed throughout the deck design process, this might signal that you need to work with another Overland Park deck contractor. This is especially true if you feel pressured to choose a certain expensive wood variety or design or if it seems that the contractor isn't listening to your concerns, such as questions about a deck size or long-term maintenance.
As with hiring any other contractor, choose one that respects your time and the importance of making a decision you can live with for years to come. You can then build a good relationship with a potential deck contractor in Overland Park and know that they'll offer high-quality installation and the repairs you'll need to have done over the years.