If you're a homeowner wondering if you can paint composite decking, the quick answer is yes! With the right tools and prep, you can add a fresh coat of paint to virtually any decking surface including composite materials.
To paint composite decking, start with a power wash, then clean it with a vinegar mixture to kill any remaining mold and mildew. You'll need to then sand the surface with a light grit sandpaper, prime it, and then paint.
These steps might seem simple and straightforward enough; however, as with any home improvement project, it's vital that you know the best tools and techniques to use, to ensure a job well done! Decks are exposed to lots of wear and tear throughout the year as well as sunlight and harsh weather conditions, so paints and materials need to withstand that punishment while protecting the decking itself.
Homeowners might also remember that painting a deck is a big job, so of course, you want to ensure you do everything possible to make that paint last. To ensure you're happy with your new deck paint, check out some added tips and remember to call a decking company if you're not sure you can manage the project, so a professional contractor can ensure the job gets done right.
What Is Composite Decking?
Before considering how to paint composite decking, it's vital that you understand what the material is and how it's different from standard decking. This can help you better understand some challenges you might face with painting or staining your property's deck and let you decide the best deck material if you're in the market for a new one! Check out some details about deck materials in use today:
     

Composite decking is made with plastic and scrap wood fibers blended together. Composite decking is preferred for its durability and resistance to wear. Using scrap wood fibers is also very eco-friendly, as composite decking doesn't require virgin wood while also keeping those scraps out of landfills; it's also very easy to clean!

     

Pressure-treated wood is a popular decking material, typically using pine that is treated with chemicals that resist rot and termites. Pressure-treated wood lasts some 15 years or more, but note that this wood should never be burned as that typically releases those chemicals into the air.

     

Tropical hardwoods are very dense and durable and might last some 25 years or longer. However, that durability has its drawbacks, as it's difficult to cut and fabricate tropical hardwoods. Overly dark colors can also heat up quickly in direct sunlight!

     

Redwood and cedar decking are prized for their natural durability and even for how they smell! Cedar also has less natural oil so it's typically easier to stain.

     

Plastic decking materials are also very durable and these materials can be stamped to resemble a variety of wood species. Plastic is also cool to the touch, but it also offers an artificial feeling that might not work well for every homeowner.   
How to Paint Composite Decking
Here are more details on how to paint composite decking, so you know how to prepare for the project and ensure a finished paint job that looks its best and lasts as long as possible.
Clear the deck and cover plants and electrical features
After clearing the deck, don't forget to cover nearby landscaping features, electrical outlets and lights, outdoor speakers, and anything else that you don't want to get wet during cleaning or touch with your paint! You'll want as much room to work as possible and need to protect items even if you think they're out of your way when cleaning and painting the deck.
Sweep and wash the deck
Sweep the deck thoroughly and then hire a power washing contractor near you to ensure it's clean. Power washing will remove debris you can't tackle with a broom, including ground-in dirt, food stains, and pollution residues. It's recommended you leave this job to the pros, to avoid damaging the deck surface and ensure a thorough job.
Tackle any residual mold and mildew
Power washing should kill and remove mold and mildew along a deck, but you might need to address areas of stubborn growth. If you notice any residual mold, mildew, algae, and other such growth on the deck, mix two parts white vinegar with one part water and add to a spray bottle; soak the affected area and let the mixture sit for several minutes before rinsing with a garden hose.
Oxygenated bleach also helps kill mold and mildew, but ensure you avoid chlorine bleach and dilute the product so you don't damage the decking material. Add one cup of oxygenated bleach to a gallon of water and use the spray bottle on mold stains, and a stiff brush if needed to remove residual roots and spores. Rinse the deck thoroughly.
Sand the deck
To prepare your deck for new paint, use 240-grit sandpaper and work in the direction of the grain. Wipe the shavings down as you work so you can ensure you're not applying too much pressure while also roughing up the surface. Once done, give the deck a rinse with a garden hose, to remove all traces of grit.
Let the deck dry
After rinsing, you'll want to ensure the deck is dry thoroughly. Usually, this takes at least 48 hours, so let the deck sit for a few days before starting to paint. Give it one last sweep with a clean broom after it's dry, to ensure the surface is ready for painting.
Prime before painting
Use a roller to save some effort and apply a primer meant for composite decking and outdoor painting. Your primer should be an acrylic latex, for better adhesion and coverage of the decking materials. After application, wait for the primer to dry, usually around two hours or according to the package directions.
Paint the deck
Once the primer is dry, it's time for paint! As with the primer, you want to choose an outdoor composite decking paint. Use a clean roller and pan, and allow the first coat to dry thoroughly before deciding if you need a second, as some paints can dry darker or more vivid than they look when wet.
Sealing the deck
Whether or not you should seal the deck after painting depends on the paint you choose. Some recommend a sealant after painting, to protect the surface, while others don't require it.
How Do You Restore a Composite Deck?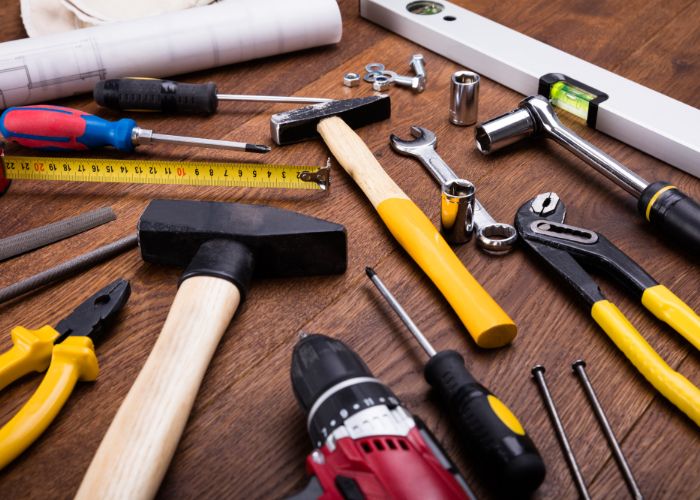 A worn composite deck might only need a good cleaning for it to look like new again! A power washing contractor can typically offer the best results but a homeowner can also restore that deck on their own with just a few simple steps.
First, avoid chlorine bleach, as said. Chlorine will eat away at the wood in composite decking and often leave behind unsightly streaks. You can also purchase cleansers meant for composite decking at most hardware and home improvement stores; be sure you mix the cleanser according to the package directions if needed.
Next, sweep and then spray the deck with a hose. Most cleansers are effectively applied to a damp surface, so this time you'll want to start working while the deck is wet rather than waiting for it to dry! Use a stiff-bristled outdoor brush and work in circular motions, to loosen as much dirt as possible from the deck.
Rinse the deck thoroughly and repeat the scrubbing as needed, if you notice any dirt left behind. If there are tough stains or discolorations, mix two parts white vinegar with one part water and spray onto the stain; next, rub some baking soda onto the vinegar mixture. The area should bubble, lifting dirt as it does. Brush the area and then rinse thoroughly.
If these steps don't restore your composite decking as you expected, it might be time for fresh paint. New paint, especially in a shade darker than the wood, can cover lots of imperfections and worn areas and make the deck surface look new again. Faded areas also won't come back to life no matter how well they're scrubbed, and need fresh paint instead.
How Do You Change the Color of a Composite Deck?
If cleaning doesn't restore the look of your composite decking, paint is often the best choice for changing its overall color and appearance. When choosing a new paint, remember that its finish will also affect its color! High gloss and gloss finishes will offer a slight sheen, while semi-gloss keeps the paint from looking dull.
Matte or flat paints are good for avoiding that shiny look and can make a paint color look deeper. If you like the overall color of your deck but find that it lacks a bit of style or just can't seem to find the right shade of paint, try a different finish instead. A bit of added shine or a deeper flat color can mean a deck that looks entirely new.
What Is the Best Stain for Composite Decking?
Staining composite decking can also give it an entirely new look; as with painting your deck, you need to clean and sand the surface first and ensure you use a stain meant for outdoor areas and composite decking in particular. An all-in-one wood stain and sealer also makes quick work of restoring the deck, offering a rich color without the added step of adding sealer over the stain.
As with paint, it's good to apply just one coat of stain and let it dry properly before deciding on another coat. As stain seeps into the wood, it can darken and then also get more vibrant after drying. Remember that it's easier to apply a second coat and darken that stain than it is to lighten too many coats and an overly dark color!
How Do You Maintain Composite Decking?
While composite decking is appreciated for its overall durability, this doesn't mean that it won't need maintenance and care over the years. A few simple tips can ensure your home's decking looks good for many years to come.
     

Avoiding standing water on your home's deck, no matter its material! Standing water can seep into pits and pores of deck surfaces, leading to wood rot, mold, and other damage. Invest in an outdoor broom and sweep away any standing water after it rains.

     

Along with avoiding standing water from rains, you might also need to redirect downspouts away from the deck.

     

Air circulation keeps a deck dry and protects wood from damage, so ensure the underside of your home's deck is clear. Trim the lawn as needed and avoid using that area for storage.

     

Avoid rubber mats and rugs on a home's deck, as rubber traps moisture and can stain or otherwise damage a composite deck. Opt for rugs and mats with woven backs, for added air circulation.

     

Keeping a deck clean helps avoid stains and premature damage. Rinse the deck with a garden hose as needed and invest in power washing every year or two, to help get rid of dirt, mold, and other debris.

     

Be mindful of anything that might scratch your decking, as even composite materials can suffer etches, nicks, and other damage. Put stoppers under furniture legs and avoid dragging heavy items across the deck.

     

Chemicals can eat through composite decking just as they would other materials, so be mindful of storing lawn care items and snow salt on the deck. If you must use the space for storage, invest in thick rubber totes and quickly sweep or rinse away any spills.
Can You Pressure Wash Composite Decking?
Decks need regular cleaning, to remove abrasive and damaging sand, silt, and other debris, and to ensure they look their best. Power washing also cleans away pollen, mold, and similar irritants, for improved outdoor air quality and better breathing!
However, it's never recommended that a homeowner try power washing on their own, as it's easy to use too much pressure or the wrong nozzles and detergents, resulting in damage. A pressure washing contractor and especially one who offers soft wash cleaning can ensure a thorough, safe cleaning job for your home's deck.
Overland Park Deck Builders is happy to bring this information to our readers and help explain how to paint composite decking. If you're in the market for a new deck or your property needs deck repairs, trust our experienced Overland Park decking contractors. We have years of experience in the industry and provide a wide range of deck materials and designs you're sure to love and offer high-quality repairs that last. For more information or to get started with your FREE consultation, give us a call today.