A solid, well-crafted deck starts with the best material for deck building. Before you build your new attached lounging deck, pool deck, or any other outdoor space, you'll want to choose a material that works well with your home's style, fits your budget, and is easy to maintain over the years.
The good news for homeowners is that there are more choices for decking materials than ever before, all of which offer a stunning look and which fall in a variety of price points. To help you choose the best material for deck building, check out this handy and comprehensive guide to various decking options, including some suggestions for what to use instead of decking and how to create a beautiful deck on the cheap.
What is the BEST Material to Use for a Deck?
The key to choosing the right material for your decking project is to find one that offers the look you love at a price you can afford while balancing long-term maintenance costs. Some cheaper deck materials might require more frequent touch-ups and staining, for example, while rugged and durable materials might not offer the look you prefer for your deck. Our top choices for the best materials for decking include pressure-treated lumber, red cedar, a tropical hardwood, composite, and aluminum. 
To help you decide the best material for deck building, consider some popular options, their average costs and needed maintenance, and pros and cons. Discuss your choices with a deck building contractor near you, so you end up with a deck surface you love for years to come!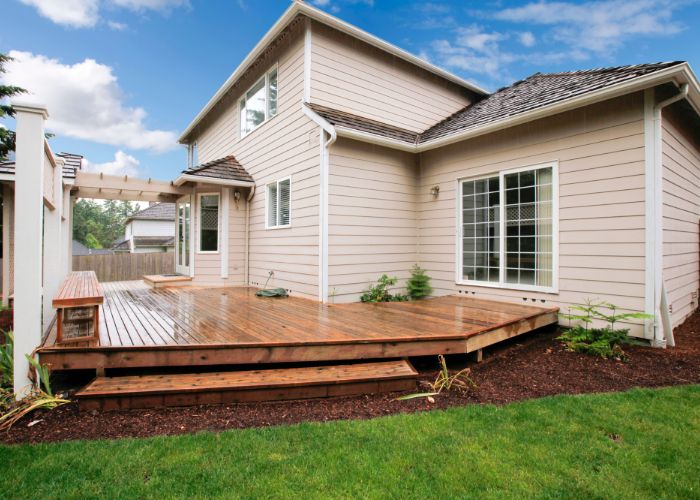 1. Pressure-Treated Lumber
Pressure-treated lumber is typically milled from pine and then chemically treated to resist rot, insects, mold, and other long-term damage. Most planks cost about $1 per linear foot, making them an affordable option for any homeowner, and are easy to cut and fabricate. Pressure-treated lumber needs refinishing and a fresh coat of sealant every two to three years at most.
The downside of pressure-treated lumber is that it's more prone to warping than other materials. Even with chemical treatment, wood will absorb moisture and then dry out, expanding and shrinking in the process. Once boards warp, they need replacing; you might even expect to replace at least one or two boards just a year after your new deck installation!
2. Redwood and Western Red Cedar
Redwood and western red cedar are prized for their deep, rich color, so that you don't typically need to paint or stain the planks once installed. They're not typically chemically treated as oils in these woods make them naturally resistant to rot and decay, a bonus for the eco-conscious homeowner!
When choosing redwood or western red cedar, opt for heartwood, which grows near the center of the tree and has more protective oils. Sapwood might be cheaper but it grows along the outer edges of the tree and is drier, with less natural oil, so it's less resistant to rot and insect infestation.
Redwood and western red cedar might cost $3 to $5 per linear foot, but their natural color saves you money on paint and stain! Both woods also need washing and fresh sealant every three to four years, also saving you money on long-term maintenance and care.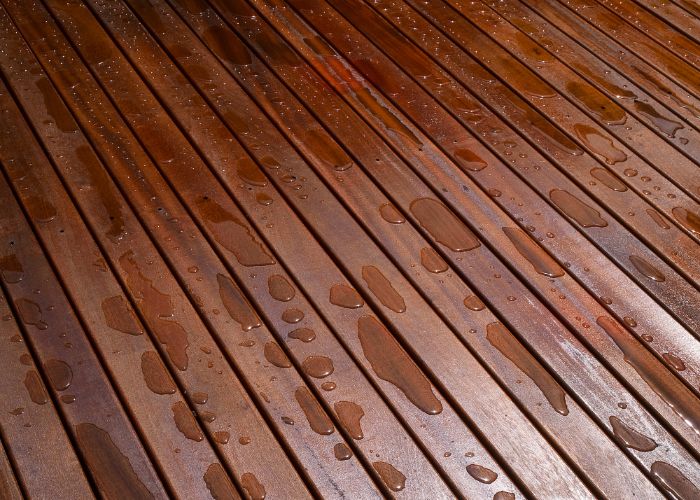 3. Tropical Hardwoods
Bamboo is a favorite construction material because it grows so quickly, making it an eco-friendly choice for deck building. Bamboo also offers a rich natural tone, so you rarely need to paint or stain it.
Teak, tigerwood, ipe (pronounced EE-pay and sometimes called ironwood or Brazilian walnut), and other tropical hardwoods are also becoming more readily available at lumber yards. These woods are dense and durable and naturally resistant to water damage, rot, and insect infestation.
The downside to tropical hardwood's density is that you will need to drill leader holes for connectors and use carbide saw blades to cut planks. It's even recommended that you opt for a decking kit with precut pieces rather than trying to fabricate tropical hardwoods on your own.
Expect to pay about $5 to $6 per linear foot for tropical hardwoods, but note that they won't typically need staining or painting over the years. Most also need only a UV-blocking sealant every few years, to add a protective barrier against damage and preserve their natural wood colors.
4. Composite and Synthetic Decking
Composite decking consists of recycled plastic and wood dust, typically salvaged from scraps, and then molded into long planks. Synthetic decking is created from PVC, then shaped and stamped to resemble wood.
Composite decking is an excellent eco-friendly option, as it uses recycled and salvaged materials. Both choices offer a dense, durable surface naturally resistant to rot, mold, warping, and other damage, so they're both virtually maintenance-free!
Wood and plastic composite decking usually runs $2 to $3 per linear foot, with synthetic decking slightly more expensive. You can cut and fabricate them both with standard household tools or purchase deck kits with precut planks. However, while both materials resemble wood from a distance, they offer an artificial look and feel that some homeowners might not appreciate.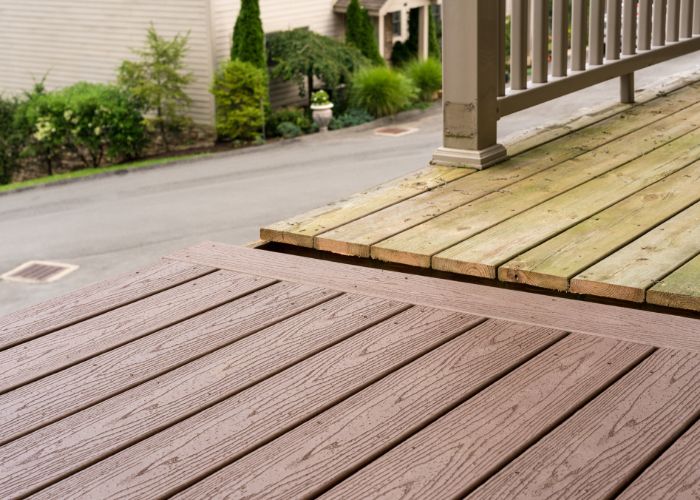 5. Aluminum Decking
Aluminum decking is becoming more popular with homeowners, as the material naturally resists heat and won't rot or warp over the years. Powder-coated aluminum is corrosion-resistant, doesn't peel or chip, and won't need new paint or stain.
For eco-conscious homeowners, note that aluminum is also fully recyclable; some decking planks and kits are made with salvaged metal, keeping them out of landfills and reducing the need for virgin materials. Most aluminum planks or kits also come with interlocking edges, making it simple to snap them into place.
Aluminum decking also requires carbide-tipped blades to cut, but is available in a wide range of decking kits with precut planks and other pieces. The material also comes in a variety of faux wood grains and finishes.
The one downside to aluminum is that it's often on the high end of costs, averaging about $10 per linear foot. However, note that it needs virtually no maintenance over the years and offers a dense, durable surface.
What is the Longest Lasting Deck Material?
Composite decking, with its bits of recycled plastic in the mix, are virtually indestructible, as are synthetic and aluminum decks. These materials all resist warping, cracking, chipping, and peeling, and make poor hosts for mold, moss, mildew, and insect infestation. All three materials also need little to no maintenance.
Aluminum and composite decking are slightly more eco-friendly than synthetic, as composite is made from reclaimed materials and aluminum is easily recycled. To choose the best deck for your home from these three options, opt for something attractive and that fits your budget and home's overall style.
Your Top Cheapest Choice for Decking Material!
Pressure-treated lumber is typically the cheapest decking material, but note that it also tends to need the most maintenance and care over the years; pressure-treated planks also need replacing far more often than other materials. In turn, you might end up paying more for a pressure-treated deck over your lifetime of home ownership, versus a material more expensive to install but less costly to maintain.
What is the Average Lifespan of a Deck?
The most durable pressure-treated planks might last 10 years or more, while redwood, western red cedar, and exotic hardwoods usually last around 30 years. Composite decking, synthetic materials, and aluminum decks often last some 50 years if not longer; most will come with a 20-year warranty, and some even come with a lifetime guarantee!
Composite Versus Synthetic Decking: Which is Better, Trex, or Azek?
If you've narrowed down your decking choices to composite or synthetic materials, you'll probably need to choose between Trex, a nationally known supplier of composite decking, and Azek, known for their synthetic or PVC decks and accessories. Since both are so similar in durability, appearance, and price, how do you choose between the two?
Which requires more maintenance?
One downside to composite decking is that its wood is prone to absorbing water and then expanding and contracting, rotting, and allowing for mold growth. If you choose composite decking, ensure it has a cap, or anti-fungal coating that resists rot, mold, and other damage; otherwise you might need to remove mold regularly and treat the decking for insect infestation. Synthetic decking is naturally impervious to rot, mold, and insect infestation, and won't warp, chip, or peel.
The most durable choice: Azek or Trex?
Trex composite is thicker and denser, so it tends to hold up better against scratching, something to consider if you have heavy patio furniture and cooking equipment or large dogs with sharp nails! However, as Azek decking is made of 100% plastic, it resists breakage and cracking better than Trex composite decking.
Which looks better and more like real wood?
Since Trex composite decking actually contains bits of real wood, many homeowners say that Trex looks and feels more like real wood than Azek. Trex composite decking also has side grooves and hidden fasteners, for a smooth surface without any visible nails, screws, or other connectors.
Which is cheaper?
Trex is typically about 20% cheaper than Azek decking; however, since Azek decking might resist breakage and other damage more readily than Trex, it might last longer and be a better long-term investment than Trex composite.
For the Handy Homeowners: What Is the Cheapest Way to Build a Deck?
Paying a deck building contractor is the best way to ensure you end up with a strong, durable deck you'll love for years to come. However, if you're good with power tools and ready to tackle this job yourself, there are a few ways to build a deck "on the cheap." One suggestion is to buy a deck kit, with precut lumber and fasteners; simply follow the assembly instructions and you'll have a new deck outside your home quickly and affordably! Be sure to check out our blog on DIY deck building for homeowners.

How to build a cheap pallet deck
A pallet deck is a fast, cheap alternative to a real deck, although it isn't as durable and probably won't last more than a season or two! To create a pallet deck, find some wood pallets in good condition and coat all the wood with a high-quality sealant; plastic pallets will also suffice but won't offer the same attractive look as real wood.
Clear the ground where you'll be placing the pallets and use a tamp to compact the dirt as much as possible. Cover that area with a weed barrier cloth. Arrange the pallets over the cloth and use a rubber mallet to tamp the pallets down until they're all level and even. Add bricks, rocks, or colorful flowers as a border if desired, and your deck is finished!
Does a deck always need poured concrete footers?
One reason that decks are so expensive is that the posts supporting its frame are often set in poured concrete, to keep them in place and prevent them from absorbing moisture. Poured concrete, however, means having to dig deep holes, mix the concrete, shovel it into the hole, and so on, all of which adds to your cost and the work needed for your new deck!
A cost-effective alternative to footers and posts is precut concrete deck blocks, designed for decking in particular. These blocks take the place of deck posts, holding its frame and center planks and elevating the deck, keeping it off the ground and away from wet soil and vegetation.
To use deck blocks, start by placing one in each of the four corners of where you'll be constructing the deck. Dig about five inches into the ground and tamp down the dirt, then place the blocks in that pit. Add more blocks as needed to support the deck frame and center. This can be time-consuming as you need to ensure all the blocks are level and even, but they are far cheaper than having to mix and pour fresh concrete and cut posts for your deck!
Building Your DIY Deck on the Cheap
Once you have your concrete deck blocks in place, cut 2×6 planks for the frame; these are the long boards that hold the floor of the deck in place. Set these framing planks in place on the deck blocks. Ensure they're level and even and then screw the outer framing pieces to these planks. Use galvanized screws, bolts, and nails to avoid rust over the years.
After the frame is in place, lay down the decking boards and attach them to the frame. Ensure you leave 1/4 inch between the boards, to allow for air circulation and water runoff. Once these are in place, coat the entire deck with a proper paint and sealant and allow time to dry before using your new space.
Top Alternative to Building a Wood Deck Patio: Patio Pavers
Patio pavers are an excellent option for many backyards, as they provide a lovely spot for entertaining while also helping break up the look of a large lawn. Pavers also come in a wide variety of stone materials, offering a range of colors and design options for your property.
While pavers have their own advantages, note that they typically require lots of ground prep work for their installation. Improper grading can allow moisture to pool under those pavers, leading to water damage and a sinking patio. Since a deck is elevated off the ground, you typically don't need to correct improper grading before its installation, saving you that added cost.
Patio pavers are also not without needed maintenance and other costs. For uneven ground, you might need to build a raised foundation for them before installation, which adds to your expense. Pavers can also crack and break or move out of position, and you might eventually see weeds growing between them! In most cases, a wood deck is often cheaper to install and maintain over the years.
What Can You Use Instead of Decking?
While wood decking and stone patio pavers are favorite choices for homeowners, they're not your only option for creating an attractive and welcoming space outside your home. One excellent alternative is interlocking deck tiles, made of wood, rubber, or even PVC materials, which create an outside space quickly and with little effort.
To use interlocking tiles, measure your space and remove the grass and other vegetation, and tamp down the dirt. Add a weed barrier cloth, then your deck tiles. Ensure they're level and even, and you're ready to enjoy your new deck!
Poured concrete is also an option for outdoor spaces; while it might be expensive to install, concrete needs little maintenance over time. Stamped and stained concrete also resembles stone tiles, and concrete can be poured into just about any shape imaginable, so your outdoor space can include walkways or decorative concrete around nearby trees and landscaping, for a cohesive look you're sure to love!
A Word from Our Deck Builders
This information is proudly presented by Overland Park Deck Builders. If you're still wondering about the best material for deck building or need deck installation in the Overland Park, Kansas, area, give us a call! We offer a wide range of deck building materials and ensure customer satisfaction with each and every project.